WELCOME TO OUR FREE GUIDANCE FOR ALL ENTERPRISING PEOPLE
This site includes #MicroBizMatters TonyRobinsonOBE.com EntrepreneursUK.com and Happipreneur.com

The Happipreneur and The Micro Business Champion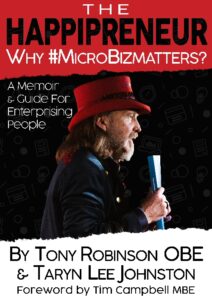 "If you're lucky enough to have Tony in your corner you're going to succeed" ..Tim Campbell MBE, the first 'The Apprentice' winner.
"If you want someone to tell you the truth go to the 'dickhead' in the red-feathered hat" ..Brad Burton, the UK's Number One Motivational Speaker
"Bonkers"..Tina Boden, Co-Founder #MicroBizMatters & Taryn Lee Johnston Co-Author.
2021 is The Year of The Happipreneur
All Tony's talks, keynotes, interviews, articles, posts, podcasts, radio and television explain why every size and type of organisation needs leaders willing to learn from business owners that are happipreneurs.
Happipreneurs are successful in life and in enterprise. They build happy and high impact teams, avoid damaging stress, innovate, collaborate and, most importantly happily, control their own destiny in the long term.
Whether, you're a freelancer, or a multi-billionaire like Tony's school friend, Sir Jim Ratcliffe,  Happipreneurship is a business and life philosophy worth considering for yourself and enabling in others.
The Happipreneur was two years in the making. Taryn Lee Johnston and Tony Robinson OBE have updated the philosophy and business principles underpinning Schumacher's influential work, Small is Beautiful.
Rather than produce a set of recommendations for policy makers the co-authors, with contributions from many well known entrepreneurs, have written  a practical guide of the values and actions which empower enterprising people.
Schumacher wrote about  'economics as if people mattered' but  The Happipreneur is about 'enterprise as if people cared'. What are the benefits to long term innovation, collaboration, survival, growth, health, fulfilment and happiness through enabling others to be enterprising  and useful to others?
Check out the 5* reviews, testimonials and media coverage of  The Happipreneur and 'Happipreneurship talks.  Leaders, parents, teachers, academics, students and all who wish to help people be more enterprising love it.
Tony's enterprising and happipreneurship life story is less important than what he has learned from interviewing and working alongside the well-known entrepreneurs he most admires.
Every #StartUp, FTSE100 CEO and Small Business Minister from now to eternity should have a copy.
The book is dedicated to #ExcludedUK and  £2 per copy sold, whether from bookstores or online, is donated to #ExcludedUK for mental health support to those in the 3 million who received little or no income support from the UK Government since the first lockdown in March 2020.
The book and the talk are an uplifting story and guide which describe the benefits of leading and enabling happy and fulfilled enterprising lives.